ABOUT THE ECORECREO GROUP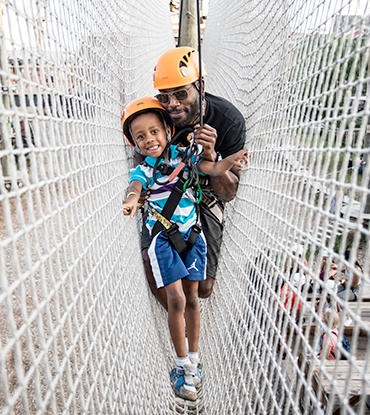 Founded in 1998, Ecorecreo Group is a Montreal-based company specializing in the development and operation of creative, outdoor, and environmentally friendly activities.

The Ecorecreo Group operates in various locations in the province of Quebec. In addition to offering the rental of recreational equipment such as quadricycles, pedal boats, kayaks, canoes, bicycles, fatbikes, inline skates and others, the group is also behind the majestic Voiles en Voiles adventure park located in the Old Port of Montreal. Inaugurated in July 2015, this park quickly became one of Montreal's must-see attractions, earning several recognitions throughout the tourism industry. Most recently, the adventure park was honored with the Travelers' Choice award from Tripadvisor in 2020 and 2021.
In 2012, we added a guided Segway tour offer through the Old Port of Montreal. Guided kayak and canoe tours through the lagoons of Parc Jean-Drapeau have also been added to the offer in recent years. In 2016, the company once again expanded its portfolio by acquiring Patin Patin to offer a wide range of recreational equipment for rental to entertain city dwellers and tourists during the winter.

In order to benefit from our excellence in visitor experience and operation, as well as our knowledge of the Montreal tourism ecosystem, the founders of OASIS Immersion called on us for the implementation and execution of their project, which was inaugurated in February 2021 at the Palais des Congrès; an extraordinary immersive exhibition where visitors are led to live inspiring experiences based on trends, personalities and places of the moment.
In summer of 2021, our latest project, Îlot76, was born. The Montreal's Olympic Park had the desire to revitalize the Grande Place at the foot of the Olympic Stadium. Our Olympic sports themed family playground quickly became the anchor to any visit in the various attractions nearby. In 2022, Ecorecreo Group inaugurates phase 2 of the project: an outdoor food court that offers several meal choices in a relaxed and musically colorful atmosphere.
Acquisition in 1998

Quadricycle International

Acquisition in 2000

Pedalboats

2010

Founding of the Ecorecreo Group

Acquisition in 2012

Éco Tours Montréal

2015

Voiles en Voiles

Acquisition in 2016

Patin Patin

Acquisition in 2021

Aquazilla

2021

OASIS Immersion

2021

Îlots76

2024

New projects to come ..!
We want families, couples and groups of friends to reunite, share activities, and overcome many challenges. Above all, our goal is to
enable people to achieve their potential, surpass their limits, and be happy, whether they are our employees, our partners or our customers in each of our compagnies!
The Ecorecreo Group specializes in the development and operation of original activities at large-scale public tourism sites. Our care in accompanying site managers in their development goals, our expertise in the recreational tourism industry, our creativity, and our values all ensure the lasting success of our projects.
The Ecorecreo Group aims to become a leader in recreational tourism initiatives by imagining, acquiring, developing, and operating activities, relevant with the social and historical environment of the site and in line with the development goal of the site and its surroundings to offer a unique experience for families and between friends.